I have been very fortunate this past year. I have commented on various blogs and ended up a winner at several giveaways in the past couple of months.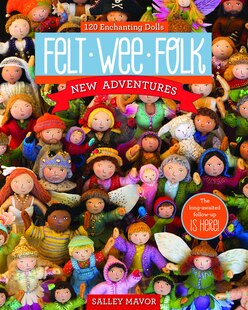 I won an electronic copy of "Wee Folk" by Salley Mavor.
A pretzel pincushion and some great looking pins from Karen of
Selvage Blog
.
A seam ripper, an orphan block and some lovely layer cake fabrics from Deonn of
Quiltscapes
. This was as a result of a giveaway connected to a blog hop for
Sew Sweet Simplicity
, a BOM that was designed by Jacqueline Steves. Since Jacqueline of
Sew Sweet Simplicity
hosted the blog hop, I also won her e-book.
And, I also won some quilting stencils from Lori of
Humble Quilts
.
Just last month I won these wonderful batiks and this pattern from Marlene of
KISSed Quilts
.
This is Joy. She is the creation of Penny, of
Art Journey,
who was giving away one of her "Whisper" dolls every week in August and I was lucky enough to be one of the winners.
Here she is on my front door. I thought maybe the background and lighting were better to show her off. Just click on any of the photos to get a closer look at the beading on her legs and torso.
Just recently, I was also fortunate to win in a draw for a pattern of my choice from
Dreamworthy Quilts
. All I did was comment as a participant of the EQ Seasons Row A Long hosted by Marian of
Seams to be Sew
. They have some lovely, free patterns from various designers for you to make your own seasons row quilt.
Forgive me if I have forgotten to thank you Ann of
The History Anorak
. She was giving away books to readers who commented and I received the book, The Boy in the Smoke by Maureen Johnson, which both my husband and myself read and enjoyed. This was quite a while ago - so my apologies to Ann for my tardiness. Life just sometimes gets in the way.
All this just because on some blogs, all I did was leave a comment and Mr. Random Generator picked me. So, don't be afraid to comment - you just never know what's in store for you. And please check out the links to the various blogs which I have provided. You can find some very interesting things to see and read about.